I really love Slack. It is a wonderful collaboration tool, one of the best things that happened in the tooling of workspace communication. It is especially useful if you work remotely or with distributed teams. However, Slack can be dangerous. Sometimes it's an endless source of noise, distraction, and even harmful addiction. It might not be as addictive as TikTok, but continuously checking Slack could lead to stress, anxiety, and a less desired shift in your work-life balance. In this post, I'm going to share my best practices about how to use Slack effectively, both on a personal and team level.
Is this for you?
I recommend this post:
For all-remote teams.
For teams with a chaotic and noisy Slack channel.
When Important information is getting lost in your channels.
If Slack is the primary communication tool for your team.
If you ever felt overwhelmed because of Slack message-hell.
Table of Contents
Follow Slack's best practices
Most of the time using Slack I tend to follow their etiquette suggestions and best practices. They have easy and practical recommendations for channels and direct messages to reduce notifications and minimize distractions.
Prefer a longer message over multiple short ones
When you reach out, especially in a DM, don't just say "hi" followed by your thoughts line-by-line sent as a new message. Write down the whole message and send it in one piece. This way the recipient will only have one notification and it'll be easier for them to understand, reply or start a thread.
I even changed my settings to send messages by hitting ⌘Cmd+Enter instead of Enter. By this, is easier to write longer (4-5 lines) messages and it helps me avoiding to accidentally share a halfway-ready message
Channels over DMs
While certain discussions need privacy, most of the time, it's better to share your message in a channel.
It can be very frustrating when team members are left out from a discussion. Particularly in all-remote environment. I only write a DM if I'd like to discuss a topic that is only relevant for the person I'm sharing it with.
It is also good to know that DMs have a higher priority in terms of notifications. This is true for group messages as well: if you send a message, everyone will instantly receive a notification ping. Most of the time it's a good pattern to create a temporary channel instead of a group message.
Format your messages
By adding emojis, using lists, and formatting your text, you can make larger messages easier to read. I know not everyone is a big fan of emojis in messages, but even adding titles and separating things in a message can help others to grab the most important bites more efficiently.
Use emoji reactions
Seriously, this is one of the best features of Slack. (Sorry, I'm into emojis. 👀) It's a great way to share how do you feel about the message or even have some fun. Particularly if you have at least a hundred custom emojis there. But these handy reactions can also help you in replacing the unnecessary "okay", "done" and "+1" messages.
These are my most frequently used emoji reactions:
👀 – I will check this out soon.
➕ – I agree or "+1" from me.
✅ – Done.
💜 – Because this is the way we love things at Bitrise.
You can see all the reactions to your messages in the Mentions & Reactions section and you can also search for any messages having a specific emoji reaction. And for me, emoji reactions are the easiest way to do simple polls as well.
Use Do Not Disturb
Either you are joining a call, visiting a meeting room, having focus time, or just checking out after a long day, turn on DND mode. It will instantly disable all of your notifications on all devices. You can set it for a specific amount of time to avoid forgetting to turn it off.
And a neat and dangerous feature: when someone has notifications turned off, you have one ultimate ping-token to use. The Send a notification anyway option can be very useful in critical situations. Or if somebody fell asleep before a Zoom call and you want to wake them up. (Just kidding.)
Update your status when you're not available
If you are commuting, out sick, having a meeting, or off for a vacation, make this info visible with an updated status. This way you can let others know when to expect an answer from you.
ALWAYS use threads
Okay, threads might not be the most perfect feature of Slack. But to be honest, threads are tricky, I yet to see the perfect solution in any app. However, using threads is really a must-have. Your channel will be easier to follow and overall, you'll have less noise with it.
Read more about Slack etiquette and how to collaborate with kindness in their best practice guide.
Build your Slack habit
While Slack is an instant messaging tool, I encourage you to start treating it less like that and more like e-mail.
The same practices can work well here: I try to achieve a zero inbox by the end of each day. I use the bookmark feature to save messages I'd like to read later. Like interesting articles or videos shared on Slack. But the same can work with important but not urgent messages: instead of getting lost in these, I save the message and let the sender know that I'll get back to it with an emoji reaction or a short answer. I also dedicate time to running through these saved messages. On Fridays, I check out every must-read channel whether I've missed something.
These habits can help you to have better control of your time and avoid the stress of Slack messages.
When not to use Slack?
Working remotely or in a distributed team can be tricky as your Slack channels are the shared office space. I always tell my distributed teams that a noisy team channel is always better than a silent one.
But written communication is exhausting. You can't see non-verbal signs, it is hard to figure out the tone and overall, it is easier to misunderstand something.
So when it comes to an urgent discussion, a sensitive topic or just a long-running thread, it's better to start a call and discuss the details "in person". And more importantly: update the thread with a summary of the call.
Prefix your channels
Slack offers default prefixes but you can add your own suggestions as well. When someone creates a new channel, they have the option to choose one.
I recommend using the following prefixes:
| | |
| --- | --- |
| #help- | Requesting help or asking questions. |
| #team- | Dedicated channels for teams. |
| #proj- | For ongoing projects. |
| #temp- | Temporary discussions. (Channels over DMs!) |
| #incident- | Dedicated space for discussing ongoing incidents. |
Read more about how Channel Prefixes work on Slack's official site.
Automate Things with Slack's Workflow Builder
Slack has a somewhat new feature called Workflow Builder. You can create basic automations for repetitive messages and handy reminders for recurring things.
All of my teams have a #help-team-name channel. If someone has a question or experienced something but not sure whether it's a bug or not, they reach out on these channels. We also have a support role in the team: each week there is one engineering answering questions. This way the majority of the team members can work without disruptions and all questions are guaranteed to get an answer.
With the Workflow Builder, I was able to quickly create a form for requesting help. This provides a nice unified view for all messages and automatically mentions the engineer doing support duties.
The form is just one click away in a channel: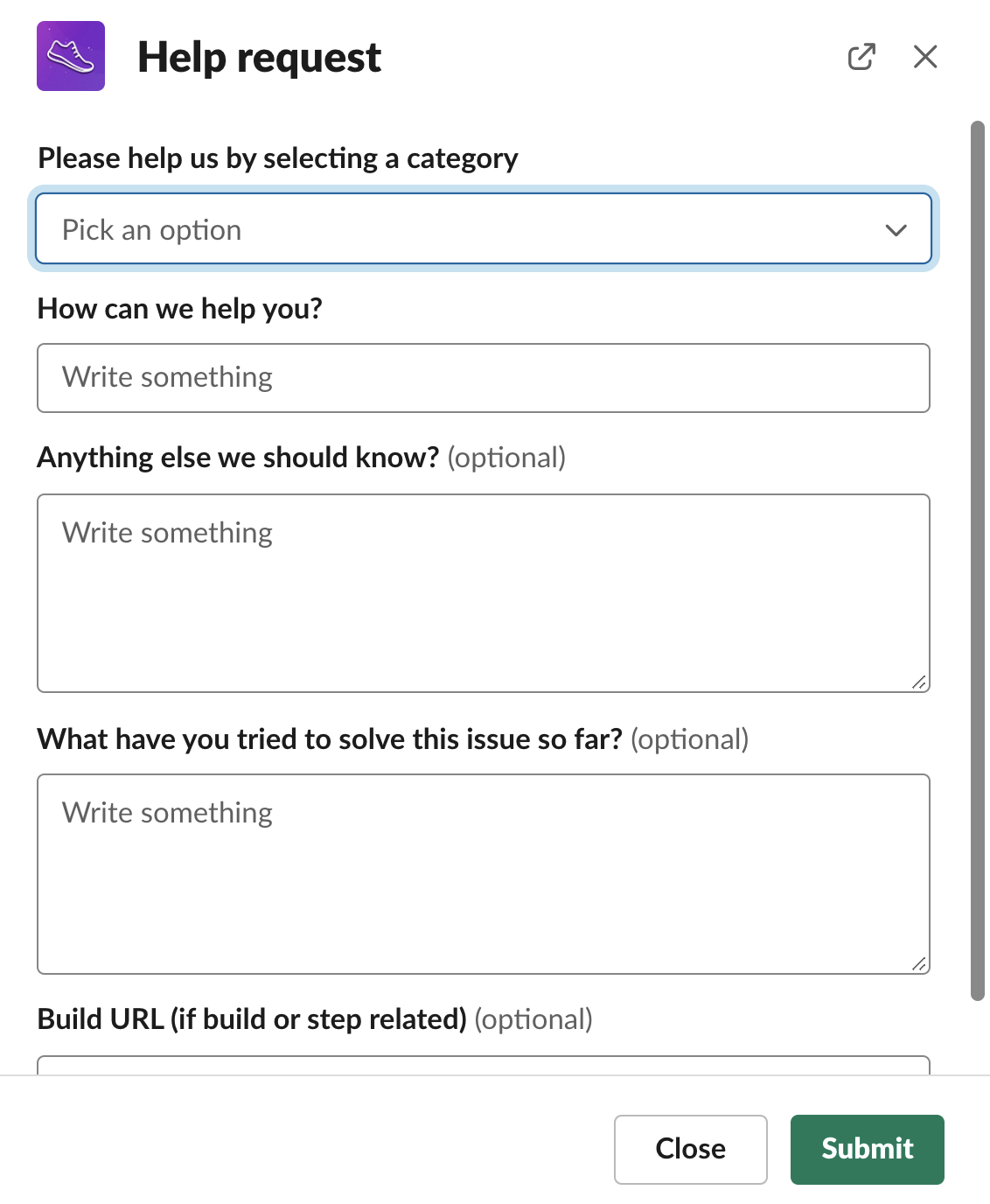 And it creates a message just like this one:

The @coresteps-team-support handle is updated each week: only the PM, the EM and the one engineer are in the group. This allows us to have a smooth rotation, and we don't need to update the channel title each week to add the handle of the engineer doing support.
You can create actions, forms, and automatic reminders. Read more about how the Workflow Builder works on Slack's official site.
Prefix your messages
Our Engineering Manager team's channel was quite noisy, resulting in at least 2-3 lost messages each week. We discussed this during our monthly retrospective, and we came up with two ideas:
Set an SLA for responding
Define mandatory prefixes
We add one of the following prefixes to all messages in the channel:
| | |
| --- | --- |
| [CTA] | There is an important task in the message. |
| [MUST-READ] | This message must be read. |
| [HELP] | Any kind of help request or question. |
| [FYI] | (Might be) useful info. |
| [TIL] | I learned something worth sharing with the team. |
| [OFF] | Off-topic and fun. |
This is how it looks like:

We agreed that we respond to all messages within 1 business day. Adding an emoji reaction is considered to be a response. (For example, adding the :eyes: emoji, which means I'll check this one out soon.)
It might seem a bit strict, but it was actually really easy to get used to it. For the last two months, since we are using our channel this way, we had no missed messages.
The @team-em handle is always used in CTA and MUST-READ messages. You can easily set your notification rules to avoid aggressive pings, but you won't miss a message as you are actually mentioned in it.
Level up: introduce this guide to the whole company
You can try these best practices instantly to boost your Slack communication. Invite your team members to a discussion and start following this guide together to boost your team's communication. And involve the whole company to truly level up how you are collaborating on Slack.
---
What are your favorite Slack best practices? Leave a reply and share your thoughts.